MyMedia Help
Known Issues and Solutions (updated December 11, 2018)
Issue: No playback with "No compatible source found for this media" error

Status: Resolved for the majority of up-to-date browsers

Recommendation: Make sure your browser is up-to-date. Internet Explorer and older browsers may need Flash to be enabled. Clear your browser's cache, refresh the page, or use incognito browsing to avoid cached errors.

Issue: No confirmation email received after an upload

Status: Intermittent

Recommendation: Depending on the number of concurrent uploads, processing may take up to 2 hours. If it has been longer than that:

log into your MyMedia account to check if your upload is there (in case a confirmation email got filtered as spam or the wrong email was provided)
try re-uploading your video; contact us if this does not resolve the issue
If you encounter issues not described above or if the recommended solutions do not work, contact us.
How to...
Create a MyMedia Account
Create a MyMedia account (requires valid UTORid)
Don't have a UTORid? Request an account or log in with MyMedia credentials by clicking the red button on homepage.
Create Media Files
There are many desktop software tools for media creation, and you can upload a wide variety of media file formats to MyMedia.
TechSmith Snagit is a desktop tool currently licensed for the university community. It is replacing TechSmith Relay and Fuse on December 31, 2018.
To download Snagit and learn more about its use, visit the Lecture Capture page or email q.help@utoronto.ca.
Make Your Media Accessible
When creating videos for public viewing, the requirements of the Accessibility for Ontarians with Disabilities Act (AODA) must be met. The video must be accompanied by captions and a transcript detailing additional information (e.g. actions, scene changes) along with the captions.
You can upload a caption file in VTT format along with your video and use the description field to add additional information.
For more information and resources on caption creation see:
Upload Media Files
To upload a media file, log into your MyMedia account, click on the "Upload Media" button and navigate to the file you want to upload.
You will receive a confirmation email shortly after your media has successfuly encoded with a link for final processing.
Please finish processing your media after it has been encoded by either clicking the link in the email, or logging back into MyMedia. You will be able to set access permissions for your media making it either publicly available or restricted to users having a valid UTORid. There are also options for making your media downloadable to end users. Upon saving, you will have a permanent play link and embed code for redistribution on other web pages, such as BlackBoard.
Please note that students are limited to 40 files; there are no file size restriction. If you are an instructor planning to accept multiple student video submissions via MyMedia, please advise us on the timelines as it may affect processing times.
If you have any questions or problems, please contact Information Commons Help Desk at help.desk@utoronto.ca.
Export and Encode Video Files Before Uploading to MyMedia
You may want to compress your video files prior to upload to reduce file size.
Generally, the best file format is .mp4 using the H.264 compression codec, but most video formats and compression codecs will work with our server-side re-encoding using ffmpeg. Videos can be made from a variety of devices and in a variety of formats. Most software for editing videos will offer an export or save-as option, where available, "YouTube" or "Web", or .mp4 (H.264) are the best options. Currently there are no options for multiple sizes or HD (1920x1080 or larger). Where there is no access to video editing software, or in the case of users who are given a completed video, there are several free options for exporting videos to more manageable file sizes and formats:
Quicktime
Download Quicktime http://support.apple.com/downloads/#quicktime
In Quicktime, use File > Export to > Web and choose the follow option: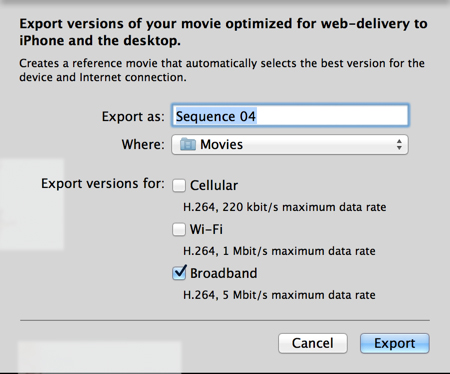 FFMPEG
PC http://avanti.arrozcru.com/
Mac http://www.ffmpegx.com/
In ffmpegX (Mac) choose the video file and select mencoder h264 and then encode: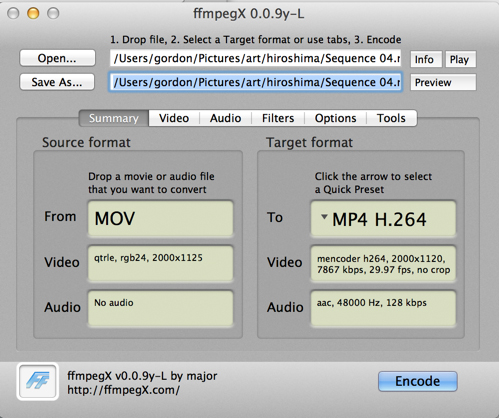 Handbrake
https://handbrake.fr/
In Handbrake, choose MP4 file with H.264 codec: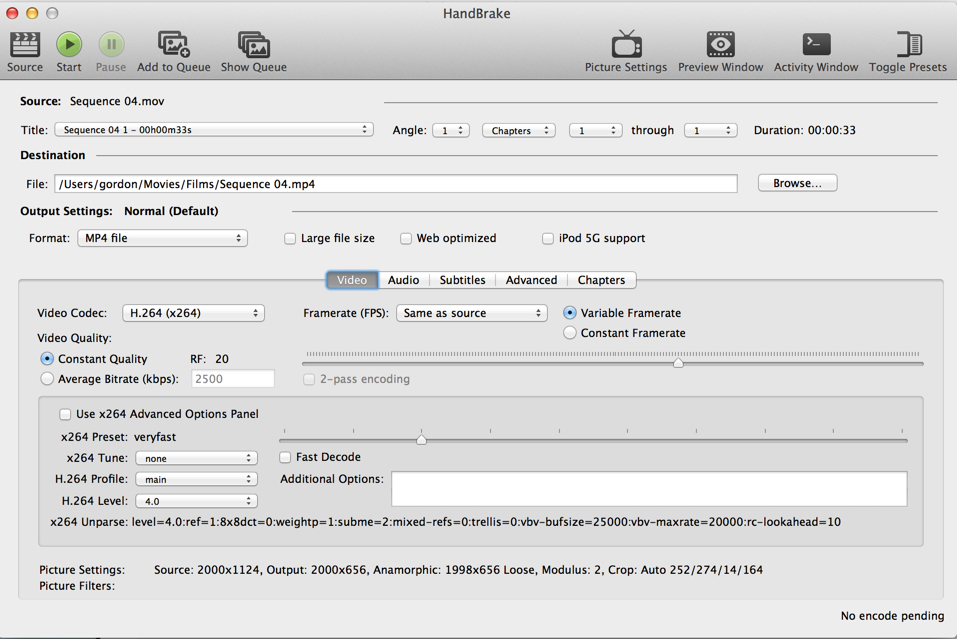 Sharing Media Files
You control access to your media files, by choosing whether they are:
Only streamable or streamable and downloadable
Restricted to only the University of Toronto community or viewable by anyone
MyMedia provides two choices for viewing media files:
Embed code to play your media in any another web page
Permanent play link to view your media within MyMedia
To make your MyMedia files available to students via BlackBoard, you can either provide a link to the media or embed it directly in the course shell.
Manage Your MyMedia Uploads
File management options become available to you once your media has been encoded. You can access the menu by either clicking the link in the email, or logging into your MyMedia account.
In your media collection click "Manage" button to change the title and description of your media as well as access permissions and viewing options. You can also upload a different thumbnail or caption file.
You can also remove your media from the media collection by clicking "Delete".
Ensure Long Term Preservation
All files uploaded to MyMedia are stored locally on the University of Toronto Libraries servers. If you are using external streaming platforms such as YouTube, Microsoft Stream, etc. and would like for your media to be preserved and accessible long-term, get in touch with us.
Please note that MyMedia, YouTube, Microsoft Stream and other streaming platforms usually convert and compress your original media for web streaming. If you would like for the original master to be preserved, get in touch with us.
Contact Us
MyMedia Support
If you did not find answers to your questions above or are experiencing technical issues with MyMedia, please contact Information Commons Help Desk at: help.desk@utoronto.ca. Please provide the following information:
Date and time problem occurred
Brief description of the problem
In case of media not playing - please include the URL you followed
Your operating system and browser version (e.g., Windows 7/Firefox 40, etc.)
TechSmith Snagit (formerly TechSmith Relay and Fuse) support
If you need help with TechSmith Snagit lecture capture software visit the Lecture Capture page or email q.help@utoronto.ca.
MyMedia Mailing List
Join the MyMedia Mailing List to stay on top of our news and upgrade announcements, and to participate in user groups for future development. We always welcome your feedback and suggestions on new features you would like to see. The listserv also allows you to ask and respond to questions of fellow MyMedia users and to access the archive of earlier discussions.